Top 3 reasons to choose River City Granite & Stone Works, LLC:
1-Free Delivery (100 mile radius) 2-Free Estimates 3-Free Kitchen Design
We Make Your New Kitchen/Bath Affordable GUARANTEED

River City Granite & Stoneworks, LLC offers the best prices on granite countertops in the St. Louis metro area. Schedule your free in home consultation today Choose quality materials for your countertops – call River City Granite & Stone Works, LLC. Our suppliers get granite from all over the world, so you can pick from a vast collection of both classic and exotic varieties of stone.
Our fabricators have over 15 years in the business. Many years of experience fabricating custom counters and vanities, installing cabinets for kitchens and bathrooms. As a small business, we take the time to listen to your ideas and consider your needs and budget. You'll love our services. For a Free Estimate and consultation, give us a call. We look forward to working with you

You can see us on KSDK TV or KDNL TV.
You can hear us on Khits 96.3 FM, 1380 AM and 590 AM, or our Newspaper ad.
Contact Us Now below to Get your Free In-home Estimate: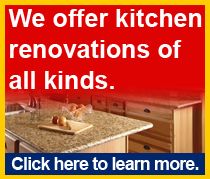 Saint Louis Granite Daddy
Countertops
by
River City Granite & Stone Works, LLC | St. Louis

St. Louis Granite Daddy countertops Chooses high-quality StL Granite and Marble materials from St Louis Granite Solutions & Stone Works, LLC. Our suppliers select the finest granite countertops from all over the world. Choose from a vast collection of both classic and exotic varieties of stone.
Our STL Granite countertops fabricators have over 15 years in the kitchen countertops business; fabricating custom , countertops counters and vanities, installing cabinets for kitchens and bathrooms. As a small business, Granite Daddy takes the time to listen to your ideas and consider your needs and budget. You'll love our services. For a Free Estimate and consultation,
We look forward to working with you.
Quality St louis granite Products & Services 25% - 40% more afforable than others.

Best stl Granite Prices & Service in St. Louis, MO!!!!
St Louis
Granite soutions is a one stop shop for your kitchen or bath st louis granite daddy countertops. Eight Cabinets manufacturers and over 100 StL granite colors await the design concept to give them life.
At St. Louis Granite countertops our goal is to make your buying experience as easy, informative and pleasant as possible. Our knowledgeable and friendly staff can assist you in selecting the perfect StL stone and the perfect cabinet to make your kitchen elegant and efficient st louis granite oulet.

St louis granite countertops, wholesale granite, marble and Stoneworks available for home or business.
We combine the most state of the art technology in st louis granite countertops fabrication with one of the largest stl granite facilities in the Saint Louis MO countertops greater metro area. Using the latest in laser and digital technology to ensure you receive the highest quality job possible. You get to select from many st. louis granite colors and choice the actual stone slab that will be used for your countertops. Let the beauty of the stone countertops / counters enhance your home and your life style. We invite you to call or visit our world class st louis granite countertops facility today.


Stl Granite countertops installed in St Louis Granite solutions starting at $30 per square foot !


Thanks for Visitng Stl Granite .com

Your Choce for St. Louis Granite countertops

Our Mission :

Exceed Your Expectations!
St louis granite countertops is an established family owned and operated company serving St. Louis MO and surrounding Areas.
We are proud of our accomplishments and look forward to creating for you the finest st louis granite countertops, marble and quartz countertop installation in your home or business.
Our talented staff is very knowledgeable and able to provide a great deal of design and color assistance for our discerning st louis granite countertops customers.
We are also happy to offer top quality st louis granite countertops materials with the best competitive pricing in the area.
From our fabrication facility and our large slab room, we are the answer for all your stone project needs. Our facility has the ability to fabricate not only granite and marble, but also we are an authorized dealer and certified fabricator of quartz and glass products: Hanstone, Silestone, Caesarstone, Zodiaq, LG Viatera and Pompeii, and also, acrylic surfaces; WilsonArt and Corian.
Allow us to bid your next st louis granite countertops project and we are confident that working together we will be able to provide a high level of quality, service and expertise. Please come visit our showroom and enjoy our more than 1,400 slabs of granite and exotic material to choose from, and give us a call for a free estimate.
BEST CHOICE - BEST QUALITY - BEST PRICE
Best Granite in St Louis
Sponsored links:
Welcome To StL Granite & Marble
StL Granite & Marbile has over 25 years of experience in delivering the best quality products for your home or business. We are a small company that focusses on providing quality craftsmanship and unparalleled customer service. We offer all of the following.
•250 colors of granite in stock
•20 plus choices of onyx and marble
•multiple options for edging upgrades
•Silestone
•Caesarstone
•Cabinets